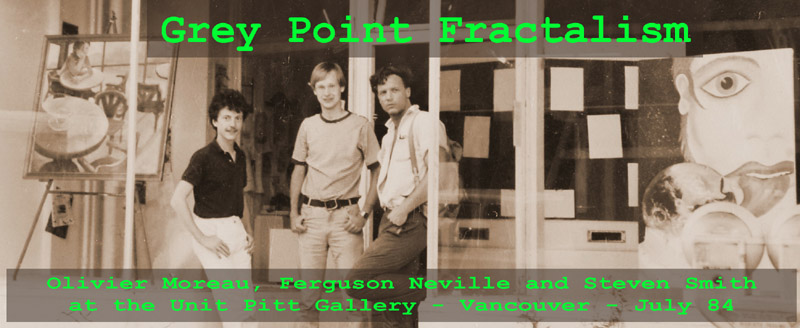 We were welcomed in July 84 at the
Unit/Pitt Gallery
in a large premise on Powell Street in Gastown, Vancouver. An exhibition mixing classical painting and computer generated graphics around recursive patterns and
fractals
was our objective. We were exploring a domain where artistic creation is mixed with scientific reason.
Ferg was studying Art, Steve lived in Math and Computers, and Olivier was in General Science. Home computers were just available  and
Mandelbrot
's fractal were very confidential at that time. The exhibition's master piece was surely our
Apple II
and
Commodore 64
generating fractals in real time, there wasn't many personal computers around yet
By nowadays standard the images are not very impressive but let's not forget we didn't have « Fractal Generators » and fast machines. We were writing programs that ran nights and days to produce one image… And then we took photos of our screens because color printing was not yet an option !
.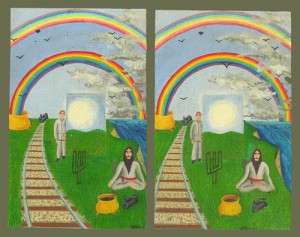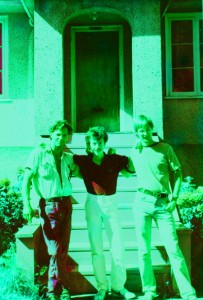 Beside fractals, I had several paintings with scientific or sci-fi inspiration. For instance « 
Stereo Rainbow
 » must be watched with a « stereoscope » made of fancy mirrors to see it in 3D. This art piece was created as an illustration for a term paper in class of cognitive psychology at UBC…
---
Original poster and text
Link to the archives of the Unit/Pitt Gallery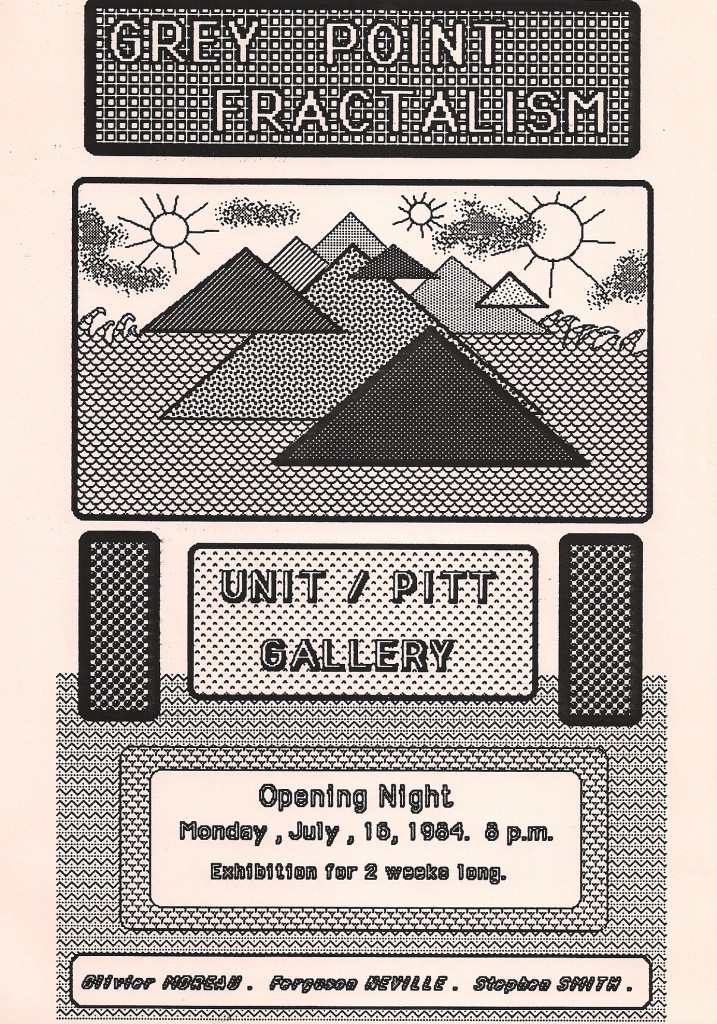 The Unit/Pitt Gallery is pleased to announce an exhibition of computer art works by the Grey Point Fractalists, a Vancouver based collaboration of artists and mathematicians. As well as paintings influenced by the rapid advance of computer technology within our society, the exhibition will consist of process works written for the IBM P.C. and the Commodore 64 personal computers. These pieces deal primarily witht he mathematical concept of the Fractal, used to describe the morphology of nature. A Fractal is a pattern in which large units and small units exhibit the same shape and behaviour, as seen in the growth of crystals, or the branching and rebranching of green plants. It is the element of randomness within more or less fixed structures which creates infinite variety in nature. It is the relationship between physical laws and the unpredictable ("creative") factor that is the real subject of the exhibition.
The show opens with a reception on Monday, July 16, and will run to July 28. Gallery hours 12 to 5, Tuesday to Saturday.